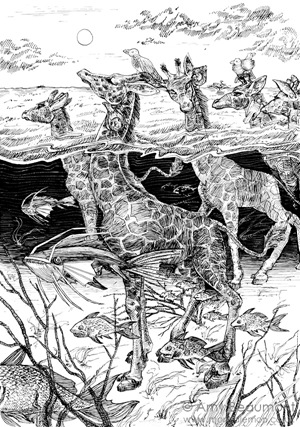 Illustration one of three – I'm flooding Africa for Darwin, naturally. I'm trying to imitate the gorgeousness that is old natural history illustration etchings. I'm particularly in love with those based on drawings by Joseph Wolf [see below]. Not to mention the delicious Une Semaine de Bonté by Max Ernst, which is collaged from wood engravings. I could spend hours poring over that book, if only I had time!
I am delayed with the other two illustrations by my tutor suggesting I get them printed as photo-etchings, to give it a more authentic feel. Unfortunately I never made use of the facilities at uni, and I can't afford a crash course at The London Print Studio yet. Although I will definitely explore that after I graduate because their session prices are very reasonable.
In the meantime I'm going to explore my own method of making prints. Ages ago I made prints of wasps by engraving acrylic with the help of a rotary tool, which would be inked like an etching [rather than a relief]. I've got myself some glass engraving needles this time, to avoid the bumpiness I found with the electric tool. I'm going to make a Bottle Jack Press [although my boyfriend wants me to make it prettier?] in a couple of weeks when I go home and have access to my mum's array of power tools… I think it will probably be more suitable for relief printing techniques, which I've also been having fun with recently [nothing to show for it, as usual]. But I look forward to experimenting with it.
Also, finished the design for our degree show website: This Will Kill That Just need to get on with the content, but time is very short at the moment. Currently working on the script and page plans for The Man Who Mistook His Wife For A Hat. It's straightforward, but I'm wasting so much time not doing it.
The large project for Meanwhile Gardens is almost at a close. Two signs and the text to finish and then we go to print. I had an interesting tour around BAF Graphics in Earlsfield last week when I was finalising the printing specifications with them – there's been a mad rush to get the Lottery budget spent before the end of the month. I came away with "printer-envy" and a big smile on my face. I've also been contracted to do three more commissions for the garden in the Summer - I imagine this is the only time I will ever get paid in advance…
Hmm. What else? Animation is still on hold, and I still haven't redesigned MorbidLemon – although I did finish the smaller logo. A few bits I want to tweak, but it won't change much from this I don't think.